---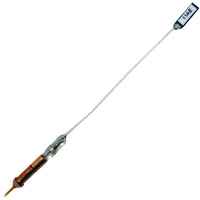 Carbon fiber electrodes (CFEs) are used in conjunction with Pinnacle's tethered and wireless recording systems. CFEs are used to measure the presence of biogenic amines (e.g. dopamine) in the brain using fixed potential amperometry or fast scan cyclic voltammetry. Pinnacle CFEs are 34 microns in diameter and 0.5 mm in length. Pinnacle's 7007 CFE series is compatible with  BASi guide cannula (7034). All Pinnacle CFEs require an Ag/AgCl reference electrode (7065).
Carbon fiber electrodes are ordered by the ability to remove them from the cannula for post-calibration.
Note: Please allow 7 business days between ordering and shipment of sensors. The sensor is warranted for 21 days or until initial precalibration, whichever is first. Longer lead times may also apply for custom sensor types. We will only ship sensors via FedEx 2-Day or Overnight.