---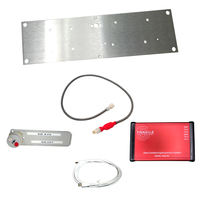 The 3-channel rat system is a configurable tethered setup capable of recording 2 EEG and 1 EMG for sleep or seizure or 3 EEG for seizure studies in rats. The 8200 system is designed to deliver the cleanest, artifact free waveforms through the use of a headmounted preamplifier. The Pinnacle rat preamplifier connects to both the rat headmount and commutator via a Plastics One MS363 6-pin screw down fitting. EEG & EMG waveforms are amplified before being transmitted to the data conditioning and acquisition system.
Kits are ordered by preamplifier configuration:
SL: 2 EEG/1 EMG for Sleep
SE: 2 EEG/1 EMG for Seizure
SE3: 3 EEG for Seizure
KIN: 3 EEG for Kindling*
The kit includes the following (quantities are 1 unless otherwise noted):
8206-HR: Data Conditioning and Acquisition System
8213: Rat Preamplifier
8214: Rat Commutator/Swivel
8258-723: 14" Mounting Plate
Cables for one animal, software and manuals are also included.
For first time buyers, we recommend purchasing an accessory kit (8200-K4) to complement the hardware system.
*Pinnacle's kindling rat system gives researchers the ability to record three channels of EEG waveforms while also applying a stimulus of up to 100 V. The kindling preamplifier features three fully independent channels, two of which are stimulus compatible.
Note: Cage and stand are not included in the 8200-K2 system.