---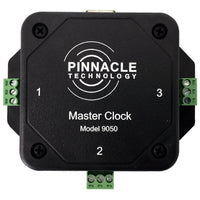 The master clock is a central timing source for experiments that require high-precision synchronization of multiple devices. Because it optimizes synchronization, the master clock is perfect for optogenetics, behavioral studies, and other protocols requiring accurate timing. 
Our precision timing system provides a highly accurate (< 1 ppm from 0 to 70°C) clock and three TTL I/O ports. It communicates with Sirenia
data acquisition software using a USB cable. The combination of a master clock and the Sirenia
software suite allows users to perform a range of experiments requiring precise synchronization while using multiple video and data interfaces.
A complete master clock system (9000-K8) is also available.