---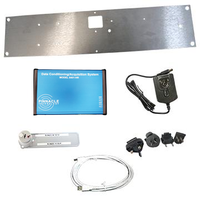 The 8400-K2 rat system is a configurable 4-channel tethered setup. Users may select low-pass filters and gain settings. EEG, EMG and biosensor data are amplified and filtered at the head of the rat by the preamplifier. Two biosensor inputs can be acquired on a single channel. Signals are then passed through the rat commutator and swivel (8409) to the data conditioning and acquisition system (8401-HS) for final stage conditioning and filtering. Acquisition and review software is provided at no cost. Preamplifiers are sold in separate kits based on configuration.
The kit includes the following (all quantities are one):
8401-HR: Data Conditioning and Acquisition System
8409: Rat Commutator and Swivel
9009-PL: Monopod Mounting Plate
9002: USB-A to USB-B Cable
Cables for one animal, software and manuals are also included.