---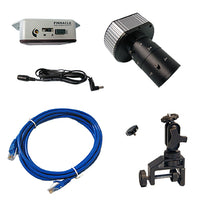 Pinnacle's high definition (HD) Internet protocol (IP) camera is capable of recording at six times the resolution of Pinnacle's box and dome cameras. The camera uses a single cable for power and data transfer. A separate, automatic infrared illumination (IR) source allows video capture in conditions of reduced lighting and complete darkness. The camera package supports flexible mounting options. It can be mounted above the cage using Pinnacle's standard mounting plate, on the cage stand, or to a tripod (9059) for recording at lower angles. Up to four cameras can be used with a single synchronized video system (9000-K1). Camera purchase includes a license key for unlocking synchronized video functionality in Sirenia Acquisition.
Specifications:
Lens: 2.8–12 mm variable focus
Max resolution: 1920 x 1072 pixels
Mount: Above, Side, Tripod
IR Source: Independent
Color/Grayscale: Both
Pinnacle offers two high definition camera kits. The 9000-K11 kit includes an Ethernet POE switch that supports a total of four cameras. Purchase 9000-K12 to incorporate additional cameras (2-4) into your setup.
The kit includes the following:
9056-HDVF: Variable Focus Lens
9057: IR Source
9058: Mounting Clamp
9058-Knob: Thumb Screw Knob
9067: High Definition IP Camera
9071: 10' Modular Cable
9072: Power Extension Cable