---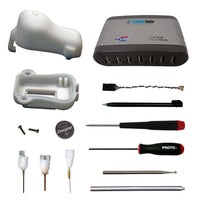 For first-time buyers, Pinnacle recommends an accessory kit for use with the 3-Channel Wireless Rat Biosensor System (8100-K9). The kit includes all necessary one-time-purchase accessories as well as enough surgical supplies/disposables to complete initial surgeries.
The kit includes the following (quantities are 1 unless otherwise noted):
7036: Clamp Rod
7040-S: Single Barrel Cannula (6)
7041-S: Tri-Barrel Cannula (2)
7043: Stereotax Holder
7044: Stereotax Adapter
7045: Hex Screws for Probe Clamp
8107-3C: Rat Hat Top
8108-3C: Rat Hat Bottom (4)
8111-16: 1/8" Screws (pkg. of 16)
8112: Drill Bit (2)
8134-20M: 20M 2-Pin Test Load (2)
8147-A: Hex Screwdriver for Rat Hat
8156: Battery Remover
8241-S: Screwdriver for 1/8" Screws
9005: Powered USB hub
9033-CR2032: Batteries (pkg. of 5)
Note:
Biosensors are sold separately.