---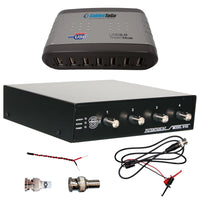 The 8102 is a labratory grade, four-channel, fixed potential potentiostat. When combined with Pinnacle's free acquisition software, the 8102 provides a cost-effective, easy to use, and highly accurate system for the development and use of high impedance, amperometric biosensors and biosensor arrays. This potentiostat has been designed with the neuroscientist in mind; it is well suited for in vitro, brain slices, and anesthetized animals.
The kit includes the following (quantities are 1 unless otherwise noted):
8102N: 4-Channel Desktop Potentiostat
8109: Sensor Adapter Cable (4)
8118: Power Supply for 8102
8125: BNC to Alligator Leads Cable (4)
8155-10M: 10M BNC Test Load
8155-75: BNC Test Load/Shorting Cap
8241-M: Flathead Screwdriver
9005: Powered USB Hub
Cables for one setup, software and manuals are also included.