---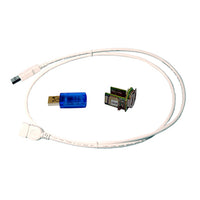 The 3-Channel Wireless Rat Biosensor System uses Bluetooth technology to wirelessly record three biosensors simultaneously in one animal. The battery-powered potentiostat, housed in Pinnacle's head-mounted Rat Hat, communicates with a paired USB dongle up to six meters away. Multiple potentiostats can be used in one room, allowing for high capacity biosensor studies.
The kit includes the following (quantities are 1 unless otherwise noted):
8173: 3-Channel Bluetooth Potentiostat
9052: USB Extension Cable
9054: Bluetooth Dongle
Software and manuals are also included. For first time buyers, we recommend purchasing an accessory kit (8100-K10) to complement the hardware system.
Note: Biosensors are sold separately.