---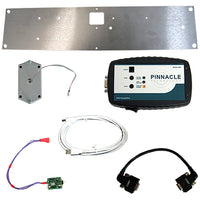 The tethered fast scan cyclic voltammetry (FSCV) system allows researchers to harness the powerful genetics of the mouse model to address underlying mechanisms of biogenic neurotransmitter release and function. The tethered system for mice uses a head-mounted FSCV board and low-torque commutator connected to a FSCV PC-control interface box that streams data to a host PC. A stimulus control is available via an external tether. The system can acquire data at a rate of ten sweeps/second at 1000 points/sweep.
The kit includes the following:
8408: Mouse Commutator/Swivel
8413-M: 12" 15-Pin Cable
8426: 18" Mounting Plate
8503: Tethered FSCV Mouse Headstage
8504: FSCV Interface Box
9002: USB Cable
For first time buyers, we recommend purchasing an accessory kit (8500-K3) to complement the hardware system.
Note: Custom cable may be needed from stim isolator to stim electrode. 
Note: Carbon fiber electrodes are sold separately.