---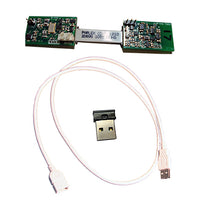 Pinnacle's wireless fast scan cyclic voltammetry (FSCV) system allows researchers to employ the FSCV technique in an untethered mode with rats. Possible uses of the wireless system include measurements within a maze or other enclosed environments, such as metabolic and behavioral chambers. A stimulus control is available via an external tether. The system resides in a head-mounted enclosure and transmits data to a computer via Bluetooth. The battery is easily accessible and readily exchangeable in real-time to support extended recordings. The system can acquire data at 5 sweeps/sec and 1,000 points/sweep.
The kit includes the following:
8501: Wireless FSCV Board
8502: Bluetooth Dongle
9052: 3' USB Extension Cable
For first time buyers, we recommend purchasing an accessory kit (8500-K4) to complement the hardware system.
Note: Custom cable may be needed from stim isolator to stim electrode. 
Note: Carbon fiber electrodes are sold separately.