---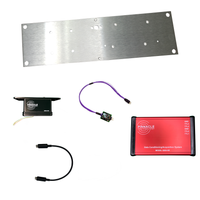 The 3-channel mouse system is a configurable tethered setup capable of recording 2 EEG and 1 EMG for sleep or seizure or 3 EEG for seizure studies in mice. EEG and EMG waveforms are amplified and filtered at the head of the mouse by the 100X mouse preamplifier. Signals are then passed through the low torque mouse commutator/swivel to the data conditioning and acquisition system for final stage conditioning and filtering.
Kits are ordered by preamplifier configuration:
SL: 2 EEG/1 EMG for Sleep
SE: 2 EEG/1 EMG for Seizure
SE3: 3 EEG for Seizure
iSL: 2 EEG/1 EMG for Sleep (Fully Independent)
iSE: 2 EEG/1 EMG for Seizure (Fully Independent)
iSE3: 3 EEG for Seizure (Fully Independent)
The kit includes the following (quantities are 1 unless otherwise noted):
8202: Mouse Preamplifier
8204-723: Mouse Commutator/Swivel
8206-HR: Data Conditioning and Acquisition System
8258-723: 14" Mounting Plate
8208-HR Cable

Cables for one animal, software and manuals are also included.
For first time buyers, we recommend purchasing an accessory kit (8200-K3) to complement the hardware system.
Note: Cage and stand are not included in the 8200-K1 system.